Can you guess ...
How much can you save with a right hire?
Hint: Atleast $50K with every hire!
Enter details to calculate your ROI
Average Annual Employee Salary (in $)
Seems like you are leaving Hrs
and on the table!
Want to solve this?
Book a
15-minute
demo consultation
Book Now
Why ?
You are spending hours on the wrong candidates. Cut this down by %.
You have HIGH mishire risk. 1 Mishire costs you per annum!
You can reduce your gender gap by 20% by taking away human bias.
How?
Leverage Skill-based assessments!
26 Jun, 2022
"Behavioral questions fail to reveal sufficient information about a candidate's competencies "
Stay Focused on Skills -
and assessments that can measure them!
With HireQuotient
Design role-tailored skills
assessment in under 5 mins
Reduce your time to hire by 50%
Get access to detailed candidate
competency report, streamlining your
hiring process.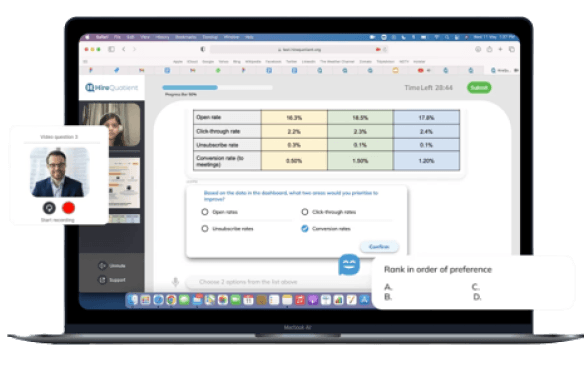 Talk to our experts today!